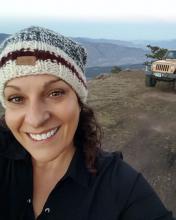 Kat Hinter lives in Victoria on the traditional and unceded territory of the Lekwungen peoples and is of Ojibwa Metis and Black Irish descent.
Kat has 25 years of experience working with and for Indigenous people in BC. She has worked for Indigenous organizations in community providing direct services as well as within large mainstream systems in both regional and provincial positions. She practices a decolonizing approach in her work and honours the wisdom of the individual and/or community and their lived experience(s). Kat offers non-judgmental and strengths focused support to the people she serves.
Kat has been a contractor with the BC Responsible and Problem Gambling program since June of 2018.